---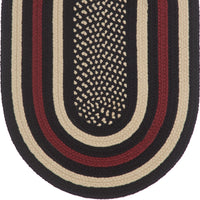 Sale
Shape of Rug
If width and length are the same then the rug is ROUND.  All other combinations are OVAL rugs
* Color: The Firefighter Braided Rug consists of Black, Beige and a Thin Brick Red Line. This rug can also represent your favorite school or sports team. Honor a true life hero today with a Colonial Braided Rug original! 
This high quality, true flat braided rug consists of 100% spun polypropylene yarn also known as Olefin. This fiber is so strong and colorfast that the smaller rugs can be washed in the machine in cold water and lay flat to dry. Olefin is known for being stain resistant, fade resistant, mildew resistant and drys quickly.  Room size rugs clean as you would carpet.
* All of our rugs are reversible for twice the wear.
* Freight is included in the US/48 for all orders over $99.
* Special request or custom combinations available.
* Larger sizes available up to 18'.   Call for pricing.
* In-House designers are here to assist you. Give us a call !
* Request a free sample !
Call (800) 676-6922